Swiss Re
"The atmosphere at Swiss Re is truly international and collaborative"
Selina Widmer studied International Management at the University of Applied Sciences and Arts Northwestern Switzerland. After completing an internship at Swiss Re, she joined the global Graduates Programme. Today, Selina works as a Market Representative for SwiftRe® – a digital solution for providing clients with reinsurance coverage in real time.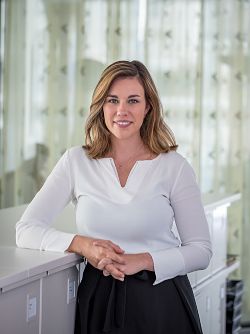 What makes the Swiss Re Graduates Programme special?
It's a truly international programme, with graduates from all around the world. It provides a great way to meet colleagues from different countries and parts of the business. I was able to build a strong network, which is very valuable for my current job and career.
Swiss Re's Graduates Programme gives you the chance to rotate through one or two different business areas in addition to your home assignment. Since I was interested in learning more about the core business of Swiss Re, I chose to do my job rotation with the underwriting team in Mexico. This allowed me not only to develop my skills in risk analysis and direct client interactions, but also to experience a different working culture and improve my Spanish skills.
In what ways has joining the Graduates Programme benefited your career development?
As a graduate, I was able to build a good understanding of the reinsurance industry. The classroom-based and virtual training offerings helped me acquire a broad range of technical and professional skills. When interacting with underwriters and clients in my job today, I have credibility because I understand our core business.
What do you like most about working at Swiss Re?
What I like most about Swiss Re is the atmosphere, which is truly international and collaborative. I can reach out to anyone in the organisation for advice, and people openly share their knowledge and expertise. I learn something new every day.
Working in an industry with such relevance for society is not only interesting but also motivating, because I know our work helps people to get back on their feet after they've suffered a loss.
I also like that Swiss Re encourages us to own the way we work by supporting flexible working.
How do you take advantage of Swiss Re's flexible working practices?
I adjust my work schedule as needed, and I can also work from home. But I really enjoy working in our offices, which provide open-plan work areas, collaboration zones, coffee areas, sports facilities and more.
 
About Swiss Re:
We're one of the world's leading providers of reinsurance, insurance and other forms of insurance-based risk transfer. We anticipate and manage risk – from natural catastrophes to climate change, from ageing populations to cybercrime. Together with our clients we develop smarter solutions and help the world to rebuild, renew and move forward. This is how we live our vision of making the world more resilient.
It's not just re/insurance experts who work for Swiss Re. We also have a host of professionals with backgrounds which, at first glance, would seem to have little or no connection to the insurance industry. Our employees are all experts in their fields – whether they're trained in science, law, finance, human resources, communication, IT, asset management, risk management, aeronautics, or something else entirely.
 
Number of employees:
Our nearly 15 000 employees work diligently on a wide variety of projects every day to mitigate risk and build resilience around the world.