Schellenberg Wittmer
A Swiss law firm as unique as its employees
Katherine Bell and Marcel Jakob, both Senior Associates at one of the leading business law firms in Switzerland, tell how Schellenberg Wittmer employees do so much more than studying files and wearing black suits.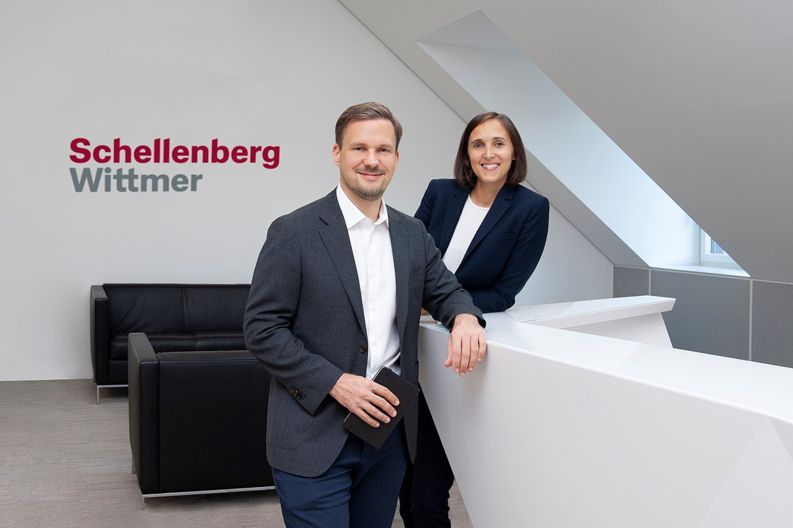 1. How would you describe the general working atmosphere at Schellenberg Wittmer to potential employees?
Katherine: We enjoy an open, friendly and collaborative atmosphere. However, culture and atmosphere are difficult to describe and must be experienced first-hand. Our dress code, which in my view is less formal than in other Swiss firms, perhaps is a visible example of a more relaxed and unpretentious atmosphere.
Marcel: I agree. I consider the culture to be non-hierarchical, fostering an open door policy. I can often just ask a colleague to help me brainstorm on a contract clause, as an example. We promote active know-how and information exchange so that everyone can benefit from the wealth of knowledge within the firm.
Katherine: I feel we are all really well integrated, in and out of the office. Sports and other social activities, such as the firm's annual ski weekend, (which includes the participation of family members), or the annual firm summer BBQ greatly contribute to a friendly and open working environment.
Marcel: I really appreciate the exchange between our Geneva and Zurich offices. Joint trainings and events as well as colleagues moving between offices is really a plus. Such exchanges also happen during the SW Master Classes, where courses are specifically designed to improve skills not taught during our academic studies. Workshops lead by our partners or external speakers cover essential topics such as business development, client management or presentation skills.
2. What can talents in law expect when joining your company that is unique to Schellenberg Wittmer?
Katherine: Apart from the open working environment, and of course the opportunity to work on interesting international cases, every new talent is supported by several mentors. For example, a new trainee gets assigned three mentors: an experienced trainee, an associate, and a partner to ensure a smooth integration.
Marcel: I think what sets us apart is our firm roots in Zurich and Geneva. This has a deep impact on our culture, which is certainly more Swiss than in a global firm, despite the international work environment.
Katherine: It is very international. Most of my cases have an international context. And many of our colleagues have studied or worked abroad. For example, we have colleagues qualified in the US, the UK, Germany, France, Chile, Singapore or Russia.
3. What makes assignments at your company especially exciting for employees?
Marcel: Trainees and lawyers of all levels work with the partners from day one. This is a great opportunity to benefit from the rich knowledge and experience of renowned experts in their fields. Besides that, we always learn a lot from our clients and their business.
Katherine: I like being at the forefront of global legal developments and working at the intersection between legal and business challenges, spanning diverse industries and sectors. One day I might be contemplating Parties' legal obligations related to the construction of a renewable energy plant, and another day I will be analysing bank advisory contracts.
4. In which ways are Schellenberg Wittmer employees able to take responsibility from day one?
Katherine: Each new employee gets immediate exposure to cases and clients. From there, people are able to grow very quickly.
Marcel: For example, I found myself working alongside experienced external advisors at a client's office already during my first week at the firm.
5. Which common misconceptions about working at a law firm have you encountered?
Marcel: There are so many stereotypes about law firms. Some see lawyers as nerds studying files; others associate law firms with designer furniture and black suits. These are common perceptions that do not reflect the daily reality. We definitely prefer colleagues with diverse private interests, who enjoy their profession, but with whom we can also have a conversation about topics, other than the law.
Katherine: I definitely agree on that one. Additionally maybe the legal industry also has a reputation for being more male-dominated, but actually at our firm on an associate level, more than half of the attorneys are female, with the highest percentage of female partners vs. in other first tier Swiss law firms.
Text: Schellenberg Wittmer in collaboration with Universum Communications
 
About Schellenberg Wittmer
Schellenberg Wittmer is one of the leading business law firms in Switzerland. Over 150 lawyers in Zurich and Geneva provide comprehensive legal services to domestic and international clients in all aspects of business law, and in Singapore through Schellenberg Wittmer Pte Ltd.
About the interviewees
Name: Katherine Bell
Position: Senior Associate
Education:
Bar Admission in Switzerland
Master of Law, University of Berne
Name: Marcel Jakob, LL.M.
Position: Senior Associate
Education:
Master of Law (LL.M.), University of Chicago
Bar Admission in Switzerland
M.A. HSG in Law, University of St. Gallen